Come do your seasonal shopping at H.O.M.E.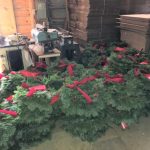 Wreath Season
Every holiday season H.O.M.E. ships wreaths and centerpieces all over the United States. It is currently H.O.M.E.'s biggest fundraiser. H.O.M.E. offers a couple choices of wreaths and centerpieces. Our wreaths are first quality 22" double-faced wreaths made of fresh balsam fir. They are available either undecorated or decorated with red velvet ribbon, pine cones, and berries. H.O.M.E. purchases the wreaths from community members, in the tradition of the Craft Store, supplying another outlet for locals to sell their handcrafts. Our centerpieces are hand crafted at H.O.M.E., using fresh greens: Balsam, Cedar, and Pine. The centerpieces are available either as a single (one candle) or as a triple (three candles) with cones, berries and ribbons to complement the arrangement. The centerpieces are available with either the traditional red berries, candles and ribbon, or our winter feature which includes; white ribbon, frosted cones and white candles. H.O.M.E. begins accepting orders in October and starts shipping the week of Thanksgiving. The order form is available to download by clicking the button above. Wreaths are also available for purchase in our Craft Store during the holiday season.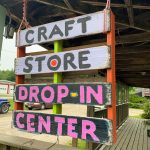 H.O.M.E. Crafts on Etsy
Many but not all of the wonderful items in our store can be found in the Etsy store. If you are a crafter and would like more information on how your crafts in our Craft Store may be added to the Etsy store, call David, our E-Commerce Manager at 207-479-3628 or 207-469-7961 extension 111.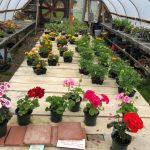 Mother's Day Flowers
Visit our greenhouse in the week before Mother's day and find your Mom's favorite annual or perennial for her special day.