Come do your seasonal shopping at H.O.M.E.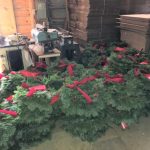 Wreath Season
For decades, this program has provided income for people in need and served to raise money for our homeless shelter heating bills. Sadly, due to circumstances out of our control, such as a wreathmaker shortage and a marked increase in production and shipping costs, the program costs more than we can possibly raise. As faithful stewards of our mission to serve people in crisis first, we made the decision to scale down the program. Rest assured, we've found a solution and yet we understand that our solution may not meet your needs. Unfortunately, we have come to the very hard decision, that the only way for this hallmark program to serve as a fundraiser, its original intention, is to scale the program down to a capacity we can commit to. Therefore, we regret to inform you that H.O.M.E., Inc. will only be providing decorated Christmas wreaths and centerpieces at our storefront and craft fairs. We will not be fulfilling orders via mail order and shipping wreaths. For those of you who live close to H.O.M.E. or close to one of the craft fairs we attend during the holiday season, H.O.M.E. wreaths and centerpieces will be available for purchase. The decision to keep sales in our gift shop and craft fairs was made to continue to support the few local crafters who have made wreaths for H.O.M.E. faithfully over the last few years. H.O.M.E. staff would like to thank you all for your years of orders for our wreaths and centerpieces. Your support has been incredible and helped H.O.M.E. through many a cold winter over the years. Again, thank you for your support over the years.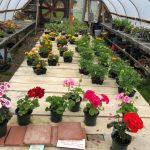 Mother's Day Flowers
Visit our greenhouse in the week before Mother's day and find your Mom's favorite annual or perennial for her special day.